A Smarter Way to Organize Meetings
Wallboard turns your static meeting room sign into a fully customizable, digital signage device. Our unique solution displays constantly updating meeting times and availability. Attendees can check in remotely or at the door with our built-in touch functionality.
With Wallboard, your meeting room sign integrates with your business's Office 365 or Google calendar to ensure the meeting information is always up-to-date.
Check-in both remotely or at the door. Our solution gives users the ability to book, start, postpone, extend, move, or delete meetings from anywhere.
Built-In Editor

Access the Wallboard UI from any web browser to create, edit, publish, and schedule content to your screens with easy, drag-and-drop functionality.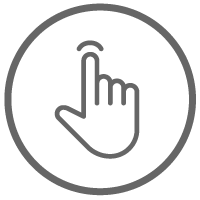 Easily create interactive content for your meeting room screens. No coding required. Turn any element into a clickable object that can perform a wide range of actions.
View current room availability and times, display organizers & attendee information, show resources available in each room, and more right from your Smart Touch device.
With Wallboard, you have access to our extensive library of content templates. Import an existing template or create your own to make designing content easy.