Il 1° giugno 2020 Wallboard rilascerà una nuova versione, ricca di interessanti miglioramenti alle funzionalità, progettata per darti ancora più strumenti quando crei contenuti per i tuoi display digitali. Abbiamo studiato quali integrazioni desiderassero gli –utenti desiderassero, rinnovando anche la nostra interfaccia che risulta ora ancora più intuitiva. Wallboard progredisce secondo le esigenze dei nostri –utenti. Prestiamo loro costante attenzione. – Ascoltiamo costantemente i loro feedback e sviluppiamo soluzioni per rendere Wallboard la piattaforma di segnaletica digitale più versatile presente sul mercato.    
I punti chiavi di questa nuova versione sono: key feature nhancements and changes coming to Wallboard. These include: 
Nuova e migliorata interfaccia utente dell'Editor

 

Integrazione di Microsoft e Google Cloud

Nuovo strumento Wayfinding integrato con Mapwize

 

I

Implementata Sicurezza a livello aziendale

 Enterprise-

L

evel Security

 

F

eatures

 

 

 

Analizzatore di Contenuti

 

Misuratore dell'Audience

Souzione completa per Sale Riunioni, integrata con Google, Office 365 ed Exchange.
NEW Content / Loop Editor UI 
L'interfaccia dell' Editor per Loop e Contents è stata riprogettata da zero per migliorarne sia le funzionalità che la fruibilità. L'editor per le Playlist adesso si trova a sinistra dello schermo (come nelle diapositive di PowerPoint). Questo nuovo layout visivo mostra come le pagine sono organizzate all'interno del content in modo che sia ancora più semplice gestire content e playlist. Gli strumenti dei singoli widget sono stati spostati a destra dello schermo in modo da poter mostrare anche l'editor della playlist.–      La playlist, l'elemento e le aree di formattazione possono ora essere ridotte ad icona per all'argare l'area di progettazione. Questa nuova interfaccia utente fornisce agli utilizzatori finali tutti gli strumenti necessari con un layout intuitivo. Creare e gestire contenuti non è mai stato così semplice.        –      
Integrazione di Microsoft e Google Cloud  
End–users can now connect their Wallboard platform to their Google or Microsoft accounts. Simply connect the Wallboard File Manager to quali cloud storage platform of choice (SharePoint, OneDrive, or Google Drive) and manage files all from on location. This allows users to connect separately stored images, videos, and folders to their Wallboard content. Sharepoint integration opens the way to further customization possibilities with Sharepoint Lists and Libraries through custom development. With Microsoft and Google cloud integration, Wallboard eliminates the need to store assets on multiple platforms while expanding the number of individuals who can update content.
NEW Wayfinding Widget 
In Version 1.8, Wallboard's wayfinding functionality has been expanded with the introduction of a new wayfinding widget with Mapwize integration. Mapwize is the premier indoor mapping platform for the creation of new digital services inside buildings and events. Maps are easy to build and even easier to integrate into Wallboard. Our wayfinding solution allows utenti to create points of interest, add wayfinding/search functionality, and create content triggers all within the Wallboard UI. Simply drag-and-drop the wayfinding widget onto quali canvas and connect it to Mapwize to create a fully functional, interactive wayfinding kiosk. No custom web development required. For more information about Mapwize, visit https://www.mapwize.io/ 
Security Enhancements 
With  companies using digital signage and the need for remote system management on the rise, information security has never been more important. At Wallboard, we understand that having a robust digital signage solution isn't enough if it lacks important security measures. This new update introduces several nterprise-level security nhancements to protect –user's valuable information. These include:  
Keycloak SSO

 

Password Policy Settings

 

Brute-Force Detection & Protection

 

Major Logging Improvements

 

Searchable 

l

ogs

 

Advanced local log gathering & storing with ELK stack

 

Advanced queries in Kibana

 

OWASP Top-Ten Compliance

 
These new features will provide end–users with the tools to implement their digital signage securely while providing peace of mind. For more details, view the complete list of new features listed here.
Analyze Content 
In Version 1.8, nd–users now can quickly troubleshoot content with the built–in Content Analyzer. Gone are the days of going through quali content  by  to try to determine what might be causing an issue. Simply right-click on the content in question and select "Analyze". The Content Analyzer will then check the content for any errors or non-standard widgets. Creare e gestire contenuti non è mai stato così semplice. Content will receive a complexity score that indicates the size of the Content and if the hardware can handle the load. With the Content Analyzer, end–users now have an easy way to detect potential issues without the need for partner troubleshooting support.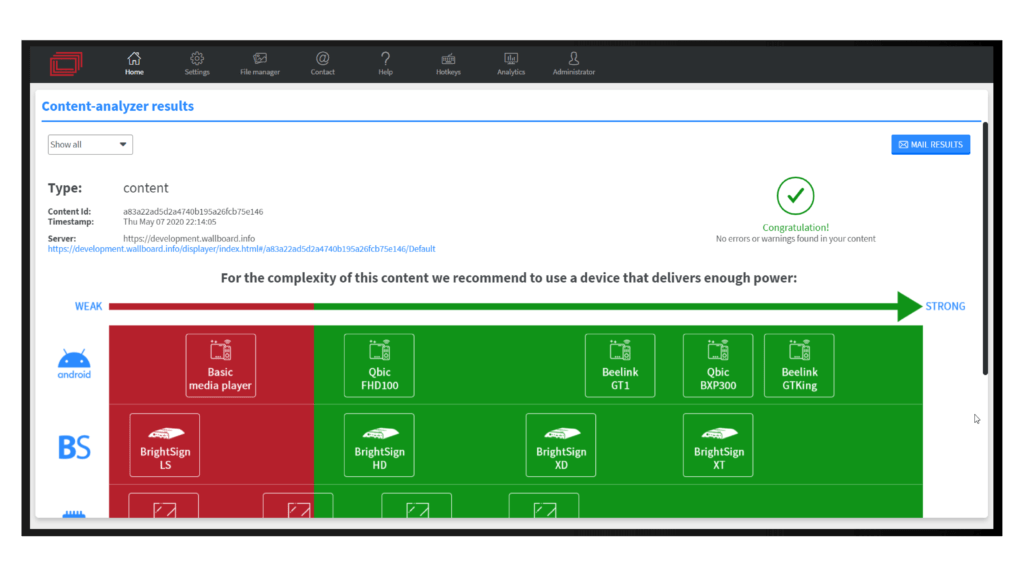 Audience Measurement
Use integrated sensors to measure audience engagement with digital signage. Wallboard now provides –user with detailed analytics when connected to a sensor–enabled display. Track important metrics, such as the number of daily viewers and how long the average user spent engaging with content. L'his data can be used to craft dynamic content that will increase both viewership and the length of screen interaction.  
Complete Meeting Room Signage Solution
Wallboard's new Meeting Room Signage Solution integrates with tablets or any other screen outside of your meeting rooms to create a fully customizable, digital signage device. Simply install Wallboard on your device and select a meeting room template or create your own custom design. Our meeting room solution integrates with Google, Office 365, and Exchange calendars. It is also compatible with RFID/NFC card authentication. Users can book, start, postpone, move, or delete meetings directly from the screen. With Wallboard, end-users get the tools they need to ensure their workforce is constantly aware of what meetings are happening and where.
​
Wallboard is always looking for new ways to innovate and improve our software platform. We rely on quali valuable feedback from our partners, resellers, and end–users to determine what features are needed in future updates. For a complete list of updated features and changes coming to Wallboard Update Version 1.8, please see the detailed list here.