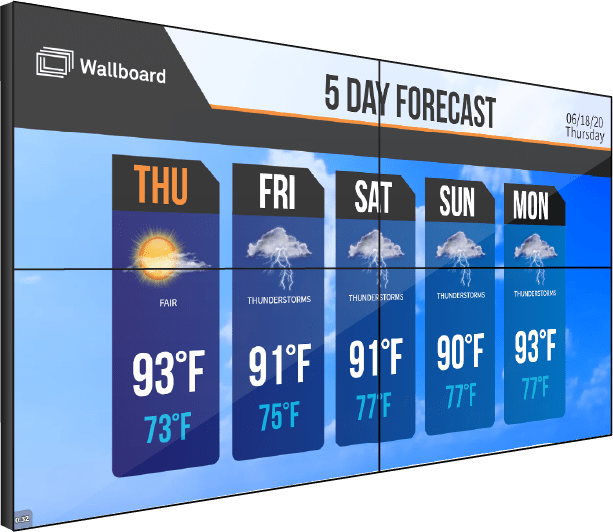 Digital Signage
Wallboard allows you to build digital signage solutions that meet your unique needs. With built-in content creation tools, it is as easy as building your own presentation only from the cloud. Build a digital menu board integrated with your point-of-sale system, an interactive in-store screen for retail, corporate communication screens with live KPI metrics, meeting room signs tied to Office 365, or anything else you can imagine.
HP Print Solution
Wallboard's HP Printer Solution is designed to work seamlessly with HP printers. With our solution, you can turn your generic printer screen into a custom branded marketing tool. Choose Wallboard and customize your printer screens to look how you want.
Easily manage your printer display remotely
Create eye-catching, branded content
Instantly push content to screens
Sharepoint and Google Drive Integration
Desktop Broadcast App
With the ongoing Covid-19 pandemic, constant communication has never been more important. Our Desktop Broadcast app enables your organization to quickly send important corporate and departmental notifications directly to employees' desktops. Live data integrations allow you to show up-to-the-minute team metrics. With our Desktop Broadcast solution, you can get the right information to your workforce.
Meeting Room Solution
Wallboard turns your static meeting room sign into a fully customizable, digital signage device. Our unique solution displays constantly updating meeting times and availability. Attendees can check in remotely or at the door with our built-in touch functionality.
Manage meetings both remotely and at the door
Integrate with Office 365 and Google calendars
Create custom signage with our built-in editor
View room information and availability at-a glance
Wallboard supports many different players and operating systems with native applications.
Certified Media Players
Wallboard now offers Wallboard-Certified Media Players. We have extensively tested these devices and worked with the manufacturer to optimize our software on this specific chipset and version of Android OS. These devices come with Wallboard-customized firmware and a pre-loaded APK.